Location
Hess & Sandeen Plastic Surgery
La Cholla Corporate Park
7436 N. La Cholla Blvd.
Tucson, Arizona 85741
(Hess & Sandeen Plastic Surgery A Division of Arizona Community Surgeons, PC)
Phone:(520) 297-3300
Fax: (520) 888-2698
Email: mailto:cday@hessandsandeen.com
If you are familiar with the Tucson area, we are located north of Ina Road and east of the Foothills Mall. From the intersection of Ina and La Cholla, head north on La Cholla to Foothills Mall Drive (there is a signal). Turn right (east) into La Cholla Corporate Park. Continue to the second round-a-bout and take a right (heading south). Our office will be on your left, look for 7436. For those unfamiliar with the Tucson area please contact us. We will be happy to help you on an individual basis. There are many resorts and hotels in the area.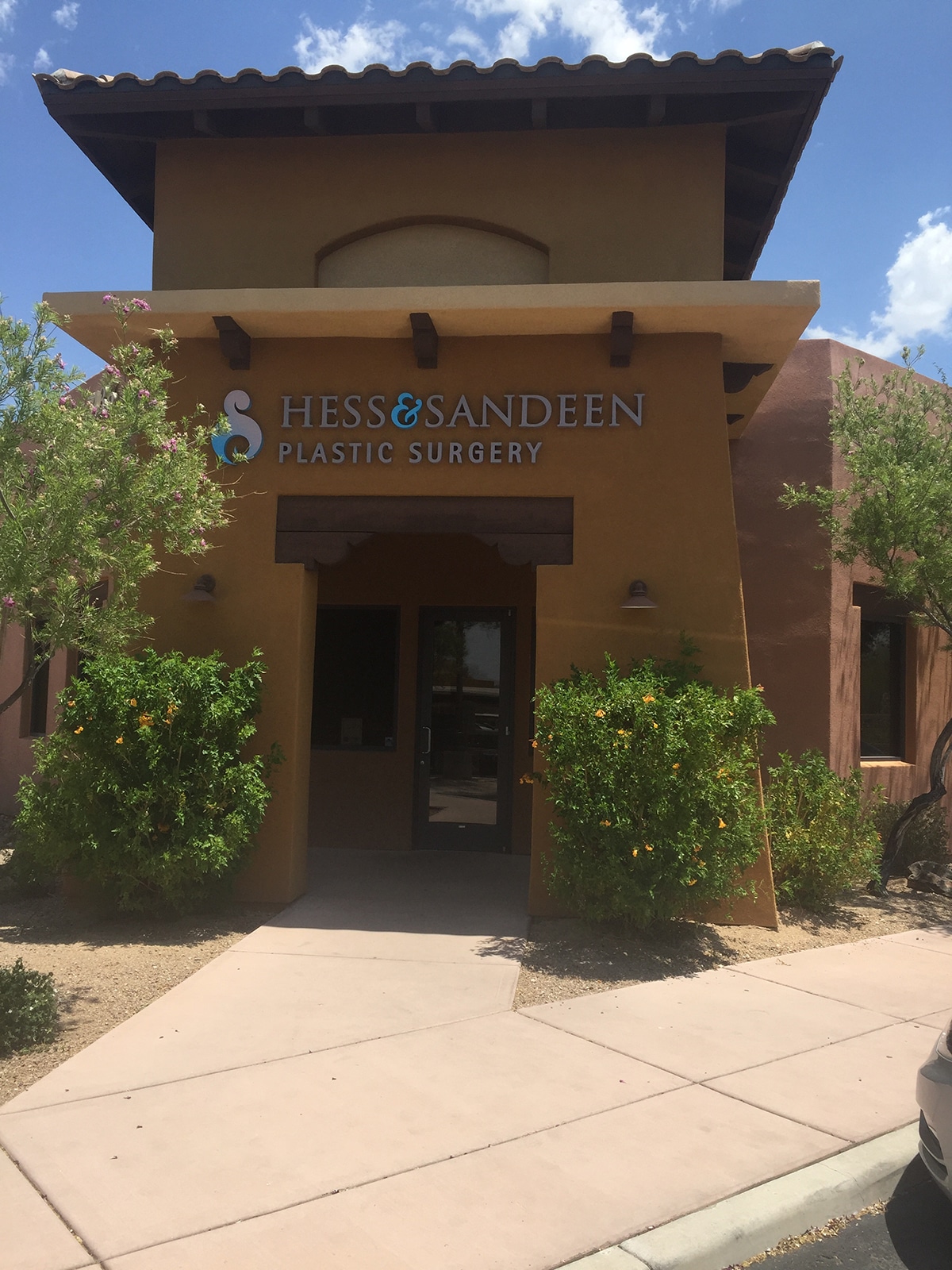 Reviews
"
I am a 68 year old woman who suffered from shoulder and neck pain for over 30 years. I had always been afraid of getting a breast reduction due to fear of strong pain meds and the recovery time. I finally went to Dr. Hess who assured me I would be able to handle any discomfort with Tylenol. And, that worked great because the pain wasn't anywhere near as bad as I thought it would be. Tylenol for 3 days and that was it. I am a very active horseback rider and Dr. Hess understood how important it was to me to have small breasts, not only to relieve neck/shoulder pain, but to make it easier to ride my horses a lot of miles. The surgery was a breeze and I was back on my horses 12 days post-op. Shoulder and neck pain is virtually gone! I am thrilled to have gone from an F cup to a B. I highly recommend Dr. Hess for this procedure as he was very caring and concerned about giving me what "I" wanted.
"
Recovery was easy and fast
★★★★★
"
I had a tummy tuck in November. He excellent and so is his office. The recovery was easy and fast. No complications thankfully. He really took wonderful care of me. I am honestly thinking about was else can I get done. I highly recommend him.
"
"
I chose Dr. Sanden for an elective procedure. He was honest, thoughtful and cateful. His assessment was thorough, his staff is extraordinarily well organized and kind. I felt , surprisingly, like a valuable work of art. The surgical procedure was meticulously done by every team member, and the follow up appointments were thorough and careful. I wish every medical practitioner and office staff were as good. And he has a really good sense of humor!
"
"
Dr. Sandeen did a wonderful job on my cancer surgery. He is on time, he listened and explained all my options and he did what I wanted him to do. I would recommend him very highly if you need any kind of plastic surgery done. A very professional person.
"