Location
Hess & Sandeen Plastic Surgery
La Cholla Corporate Park
7436 N. La Cholla Blvd.
Tucson, Arizona 85741
(Hess & Sandeen Plastic Surgery A Division of Arizona Community Surgeons, PC)
Phone:(520) 297-3300
Fax: (520) 888-2698
Email: mailto:cday@hessandsandeen.com
If you are familiar with the Tucson area, we are located north of Ina Road and east of the Foothills Mall. From the intersection of Ina and La Cholla, head north on La Cholla to Foothills Mall Drive (there is a signal). Turn right (east) into La Cholla Corporate Park. Continue to the second round-a-bout and take a right (heading south). Our office will be on your left, look for 7436. For those unfamiliar with the Tucson area please contact us. We will be happy to help you on an individual basis. There are many resorts and hotels in the area.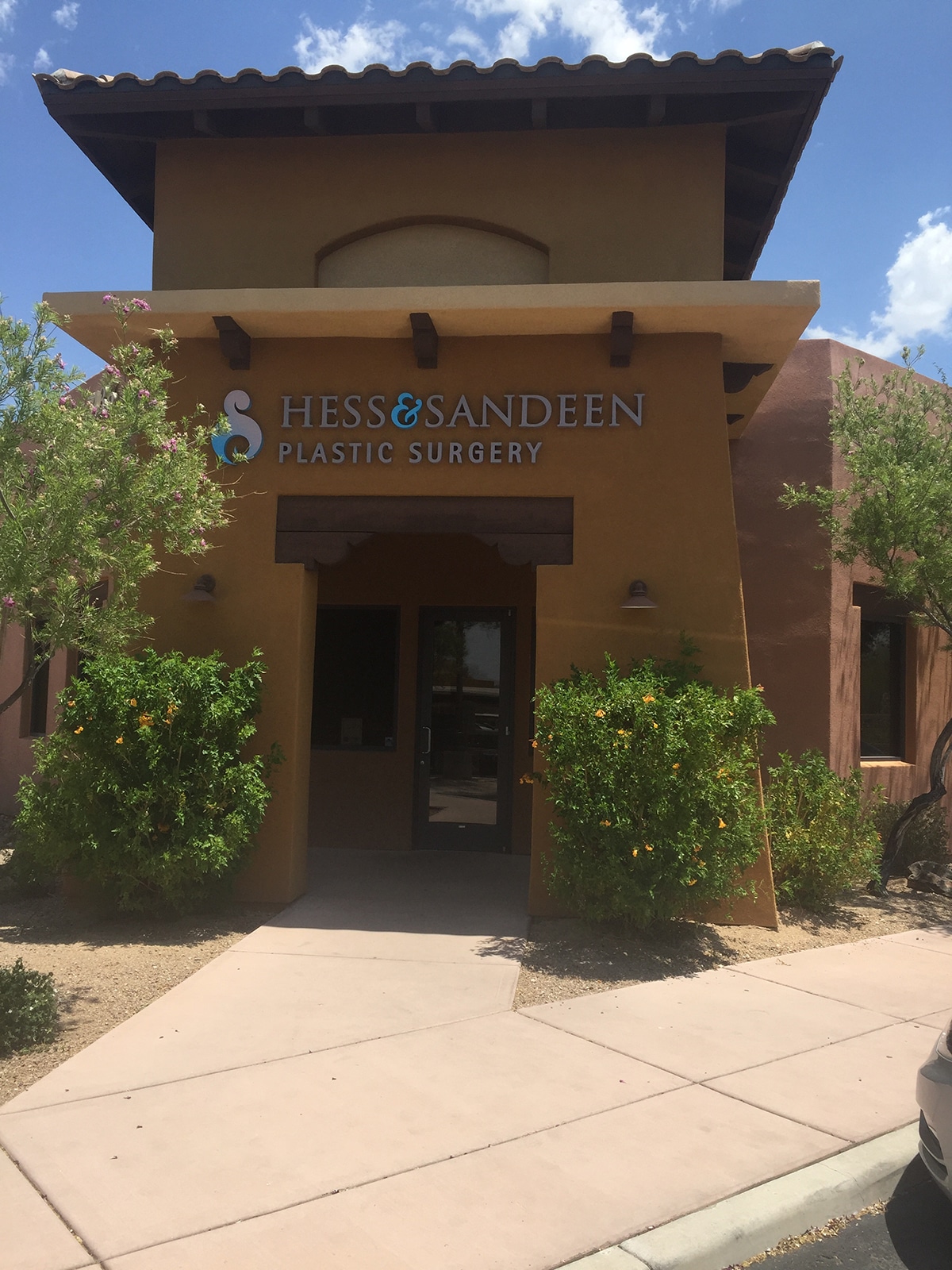 Reviews
"
Dr. Sandeen recently completed breast reduction surgery on my prior 42G's and created a much more livable and aesthetically pleasing size and shape. I could not be happier as I was suffering from pain in my back, neck and shoulders...4.5lbs was removed. My husband is very pleased with the results!
"
"
My experience with Dr. Hess and his office was honestly the best I could ever have wanted! Everyone at his office is welcoming and courteous, and of course he is an absolute pleasure to work with! Everything was so straightforward, from the consult to the pre-surgical appt, and my surgery went so smoothly. I couldn't be happier with my new C cup, lifted breasts!! Dr. Hess is honest and trustworthy. I would go back to him in a heartbeat for any plastic surgery procedures. A+++++ experience!
"
"
Dr. Sandeen did a wonderful job on my cancer surgery. He is on time, he listened and explained all my options and he did what I wanted him to do. I would recommend him very highly if you need any kind of plastic surgery done. A very professional person.
"
I Don't Look Tired Anymore
★★★★★
"
I originally went to Dr. Sandeen to have my marionette lines removed. I knew beforehand he probably would want to fix my neck too. He suggested I have my lower eyes done so I would look refreshed. I had all three done and I'm so glad I listened to him about my eyes. What a difference. I no longer look tired and my neck looks fabulous, as does the rest of my face. Dr. Sandeen answers your questions and explains the procedures perfectly. Follow up visits were on-time and informative about taking care of my incisions. Dr. Sandeen has a very nice sense of humor and his office staff is professional and pleasant.
"