Location
Hess & Sandeen Plastic Surgery
La Cholla Corporate Park
7436 N. La Cholla Blvd.
Tucson, Arizona 85741
(Hess & Sandeen Plastic Surgery A Division of Arizona Community Surgeons, PC)
Phone:(520) 297-3300
Fax: (520) 888-2698
Email: mailto:cday@hessandsandeen.com
If you are familiar with the Tucson area, we are located north of Ina Road and east of the Foothills Mall. From the intersection of Ina and La Cholla, head north on La Cholla to Foothills Mall Drive (there is a signal). Turn right (east) into La Cholla Corporate Park. Continue to the second round-a-bout and take a right (heading south). Our office will be on your left, look for 7436. For those unfamiliar with the Tucson area please contact us. We will be happy to help you on an individual basis. There are many resorts and hotels in the area.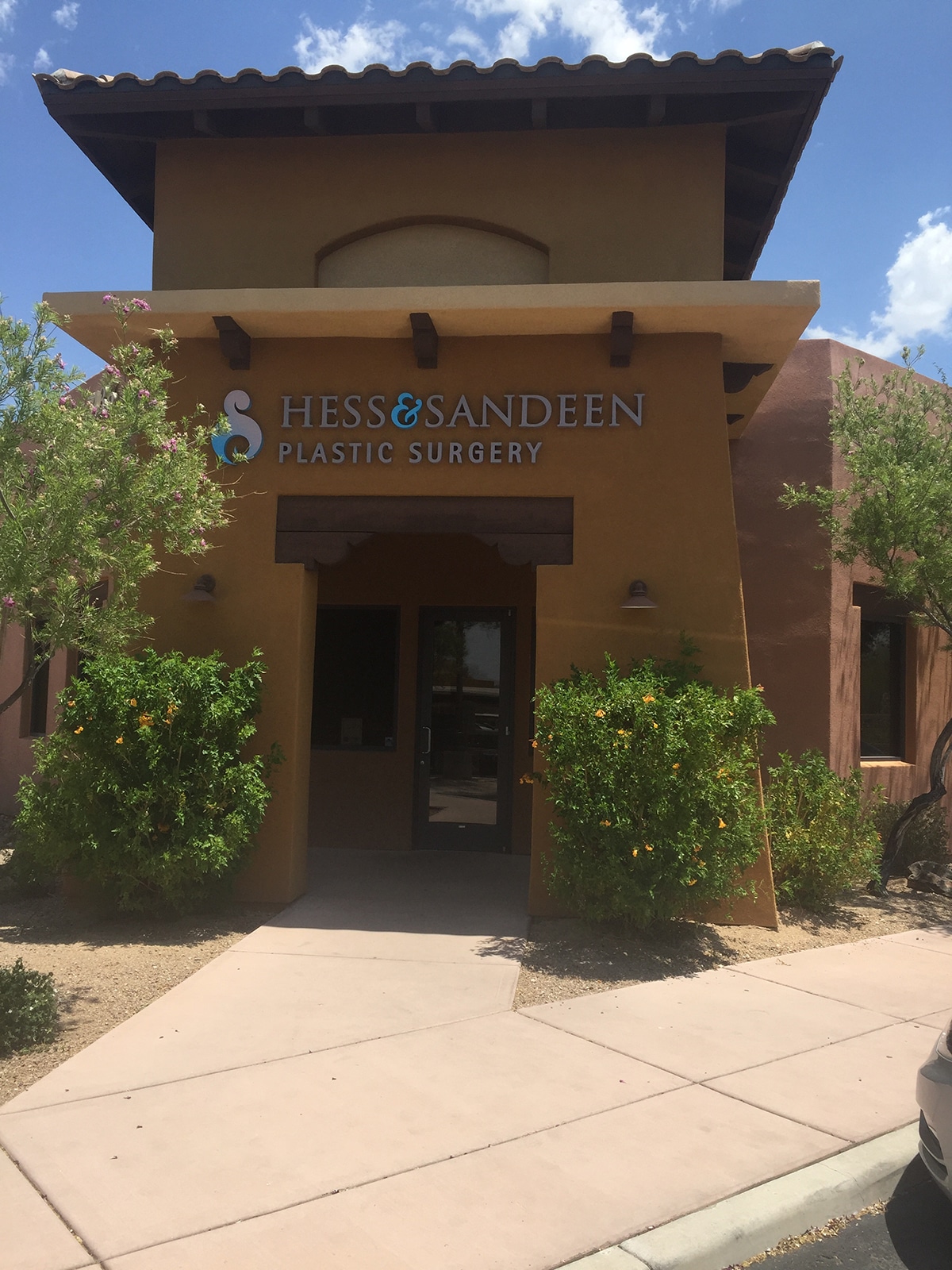 Reviews
True Professional with Gifted Hands
★★★★★
"
I had the most amazing experience with Dr. Hess, he is a true professional with gifted hands. Dr. Hess performed a face-lift along with upper and lower lids. The outcome, which to date is only one month, and is greater than my expectations. Dr. Hess is passionate about his work and a true perfectionist. A few days ago, after my procedure, I got a new haircut, and my friends and acquaintance said, "Wow, I love your new hair style, it has taken 10 years off your looks." I only smiled and said thank you. Dr. Hess has wonderful bedside manners and his office staff is friendly.
"
Recovery was easy and fast
★★★★★
"
I had a tummy tuck in November. He excellent and so is his office. The recovery was easy and fast. No complications thankfully. He really took wonderful care of me. I am honestly thinking about was else can I get done. I highly recommend him.
"
"
Dr. Sandeen did a wonderful job on my cancer surgery. He is on time, he listened and explained all my options and he did what I wanted him to do. I would recommend him very highly if you need any kind of plastic surgery done. A very professional person.
"
"
Dr. Sandeen recently completed breast reduction surgery on my prior 42G's and created a much more livable and aesthetically pleasing size and shape. I could not be happier as I was suffering from pain in my back, neck and shoulders...4.5lbs was removed. My husband is very pleased with the results!
"